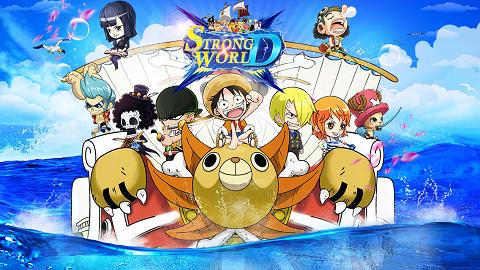 Welcome to the Strong World D. - The One Piece Game Wikia
Welcome to the wiki dedicated to Strong World D., the One Piece game for your your apple devices. It is also known as Great Sea Explorer on Google Play Store for Android.
You can get the game for free by clicking here for iPhone, or here for Android.
It is very easy to play, but has a lot of potential and can get very challenging even for the most skilled players. It is a role playing game based on One Piece, where you can form your own crew, pick 5 characters and fight enemies, either AI or other players just like you.
The game is pretty self-explanatory, easy to pick up and play, however you might run into problems, or have questions. Maybe you just want to get stronger! Do not forget that you can use ctrl+F to easily search a page for something that you are looking for.
You can start reading about the basics of the game by clicking here.
You can check the item encyclopedia by clicking here.
You can check the list of all characters by clicking here.
Ad blocker interference detected!
Wikia is a free-to-use site that makes money from advertising. We have a modified experience for viewers using ad blockers

Wikia is not accessible if you've made further modifications. Remove the custom ad blocker rule(s) and the page will load as expected.